There's a lot of subtle racism that goes on and its everywhere: in our everyday interactions, in our schools, in our systems, and in our institutions. The media is definitely no exception: the morning news and our national newspapers often seem like mere vehicles for disseminating xenophobic views of foreign countries and their terrorist ways. As I was sitting at the kitchen table this morning, chomping on my delicious cereal, watching GMA (which is probably a horrible habit but it's just too boring to sit and eat alone in silence), a particular lifestyle story came up that absolutely appalled me. It was about this little black boy who had been rude to his teacher in class and as a punishment, his mother made him stand on a street outside of the school holding a sign about how sorry he was that he was rude and how he had learned his lesson.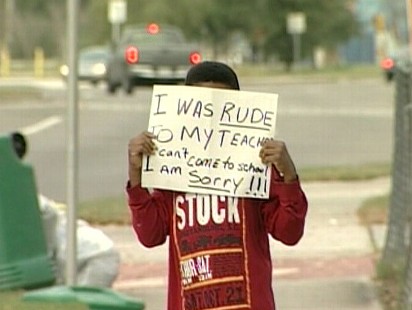 Of course, the reporting was done by token Robin Roberts, the token black woman on the show who tends to do the interviews and reporting whenever black people are involved. The segment focused on the tactic of humiliating punishment and whether it was effective or whether it would just breed resentment in the child: in this case, Roland, the
little boy testified to having learned his lesson from the punishment, that he's "got to do good in school and do right". Good Morning America chose to focus on the parenting tactics of a black mom, at times portraying her treatment of her child as near-abusive (they tried to straddle the fence in weighing whether or not the punishment was effective but they sure did talk a whole lot about whether or not this experience would scar Roland).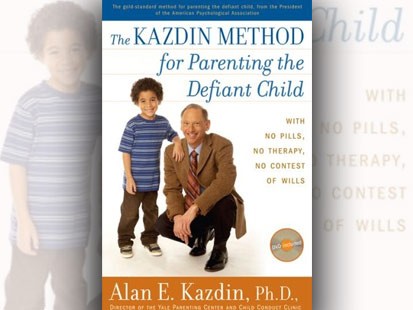 Why did this trivial story make it to the national news? This image of black people not knowing how
to do anything, including parent their own children, sickens me to my stomach and you know what? It's not just a coincidence either. Paired with this anecdote, GMA also included reminders and pictures of previous featured stories about similar sign-holding-in-public punishments that other parents has doled out to their children.

Why did the slideshow consist only of black parents
punishing their children in "questionable" ways?

Why is it that white people and white media somehow get to be the arbiters of black people's lives?

I visited GMA's website to get a picture for this post and there was a column of related articles, including a link that beckoned me to "click here!" if I had an out of control child. Really? Okay. Personally, I think the problem is out of control ABC/NBC/CNN news networks. Anyhoo, I clicked on the link and

lo and behold, a book about Parenting Defiant Children. On the cover? A smiling, formerly out-of-control black kid (complete with afro) now under complete control because a white man taught him how to behave.

We should in no way perceive this as an isolated incident. Look closer: be on your toes when exposed to media and ask yourself what their portrayals, not only of people of color, but also of white people are saying about whiteness and non-whites. Otherwise, not just little black boys, but all of us, will be parented by the patriarchal, old, white men of the media, of the health care system, and of the government.